Construction & real estate tempered laminated glass sheet price
Seller

Moshell Group Co., Ltd.

Min. Order

300 Square Meter/Square Meters laminated glass sheet price

FOB Price

US $3.5-30 /Square Meter
Product Description
MOSHELL LAMINATED GLASS

1) Type

Laminated Glass, Safety Glass

2) Brand

Moshell Group

3) Thickness

Sheet Glass

3 ~ 19 mm

Laminated Glass

6.38 ~40 mm

4) Size

Minimum

300 * 800 mm

Maximum

2400 * 6000 mm

5) PVB Glue

Color

Clear,Milk white,Grey, etc

Thickness

0.38 * 3.04 mm

6) Type of Sheet Glass

Float glass

7) Packing

(1) Paper or plastic film between two sheets

(2) Seaworthy wooden crates

(3) Strong iron belt for consolidation

8) Quality Standard

IGCC, CSI, ISO9001, CCC, etc

9) Application

Facades and curtain walls, windows & doors,

skylights, railings, shower enclosures, partition etc.
LAMINATED GLASS ( 1)Thickness: 3~19mm ; 2)Color: Clear/Green/Gray/Blue/Etc ; 3)Standard: IGCC/CSI/ISO/CCC)
Laminated glass is one kind of most safety glass, which can hold the fragments together when shattered. This is because of the interlayer of the glass, we call it polyvinyl butyral (PVB). PVB is between two or more layers of glass. It can keep the layers of glass sticked together after broken, and its high adhesion prevents the glass
from breaking up into large sharp pieces. Laminated glass is widely used in high buildings, bullet-proof glass, and other safety required field.
MOSHELL LAMINATED GLASS FEATURES

PRODUCTS PICTURES

FEATURES OF LAMINATED GLASS

1, Top Safety: The PVB interlayer is capable of

withstand violent impact. Even if the glass cracks,

the splinters will still adhere to the interlayer and

will not scatter. For now, Laminated glass is the

most safety glass in the world.

2, Energy-saving: The PVB glue will prevent the

transmission of the solar heat and reduce the

cooling loads.

3, More Beautiful: Laminated glass with a tinted

interlayer will make the buildings look more beautiful.

4, Noise Reduction: The PVB interlayer is very

effective in absorbing sound.

5, Blocking Ultraviolet: The interlayer filters out

ultraviolet rays and prevents the furniture and

curtains from fading color.

Laminated Glass Applications:

Curtain wall, high building windows, balcony,

fencing, shower door, etc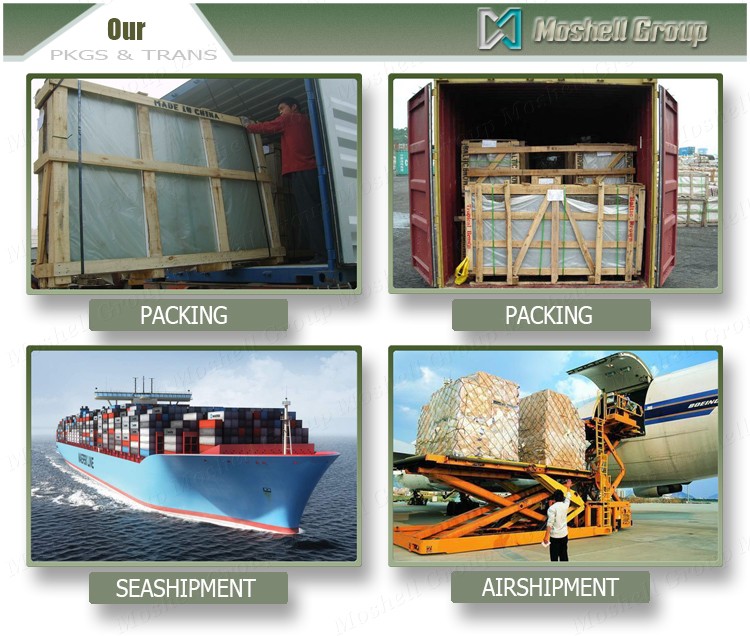 Our Factory
Our Certificate
Our Quality Control
Our Projects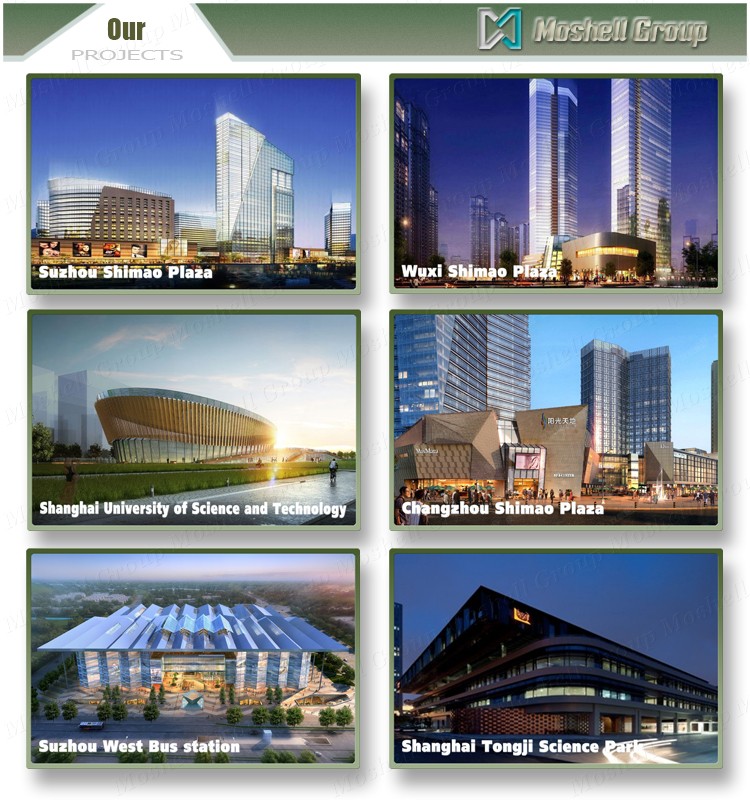 Why Choose Us
1, Good Communication: For every order, we'll make sure we fully understand customers' requirement; After getting order, we'll make sure customers know the production condition; After finishing order, we'll make sure customers are satisfied with our quality & service, and willing to become our regular customers.
2, Good Production Control: Our ERP system can make sure the fluency of all the sectors including supplier chain, factory management, customer management, human resource, and data warehouse management.
3, Good Quality Control: We have complete and advanced inspection and testing equipment, including (USA) RC3175 accurate sheet resistance measuring instrument, radiometer, Lambda 950 spectrophotometer, Datacolor Cherk 2, Grinding machine, Infrared spectrometer, Datacolor 650, etc