Pro Precision Magnetic Screwdriver Set 54 Driver Bit Kit for Mobile Phone Repair Tools
Seller

Shenzhen Youfu Tools Co., Ltd.

Min. Order

100 Set/Sets

FOB Price

US $4.3-5 /Set
Product Description
Pro Precision Magnetic Screwdriver Set 54 Bit Driver Kit for Mobile Phone Repair Kit Tools

Product Description
Description:
This magnetic screwdriver set comes with an adjustable rod for different lengths of requirements Comes with extension rod, and can be used in the handle for length adjustment. ?High-precision tips in different specifications for different applications. ?The handle is designed based on human mechanics which makes the operation more efficient and more comfortable.
Kit Content:
1) 4 mm aluminum driver-with a magnetic base, rubberized and a ball bearing rotation above
2) Flexible wave extension-snake in hard to reach places (random)
3) 60 mm stroke extension-double as T-handle for additional torque
4)1/4 "Adapter-Use these kits 4 mm bits in standard 1/4" driver
54 bits in the following sizes:
Flat head sizes: 1.0,1.3, 1.5, 2.0, 2.5, 3, 3.5, 4 mm
hex sizes: 0.7,0.9,1.0, 1.3, 1.5, 2.0, 2.5, 3.0, 3.5, 4.0mm
Phillips sizes: PH000,PH00,PH0,PH1,PH2
Torx sizes :T3, T4, T5, T6, T7
Torx Safety :TR8, TR9, TR10, TR15, TR20
Triangle size: 2.0,2.3mm
Tri-point:2.0m,3.0m
Pentalobe sizes: 0.8 1.2 (for iPhone MacBook Air MacBook Pro)
Square sizes :# 0, # 1
Socket sizes :2.5, 3.0, 3.5, 4.0, 5.5, 5mm
Pozidrive:PZ000,PZ00,PZ0, PZ1,PZ2
Spanner:2.6mm
Sim Eject Bit:1.0mm
Detailed Images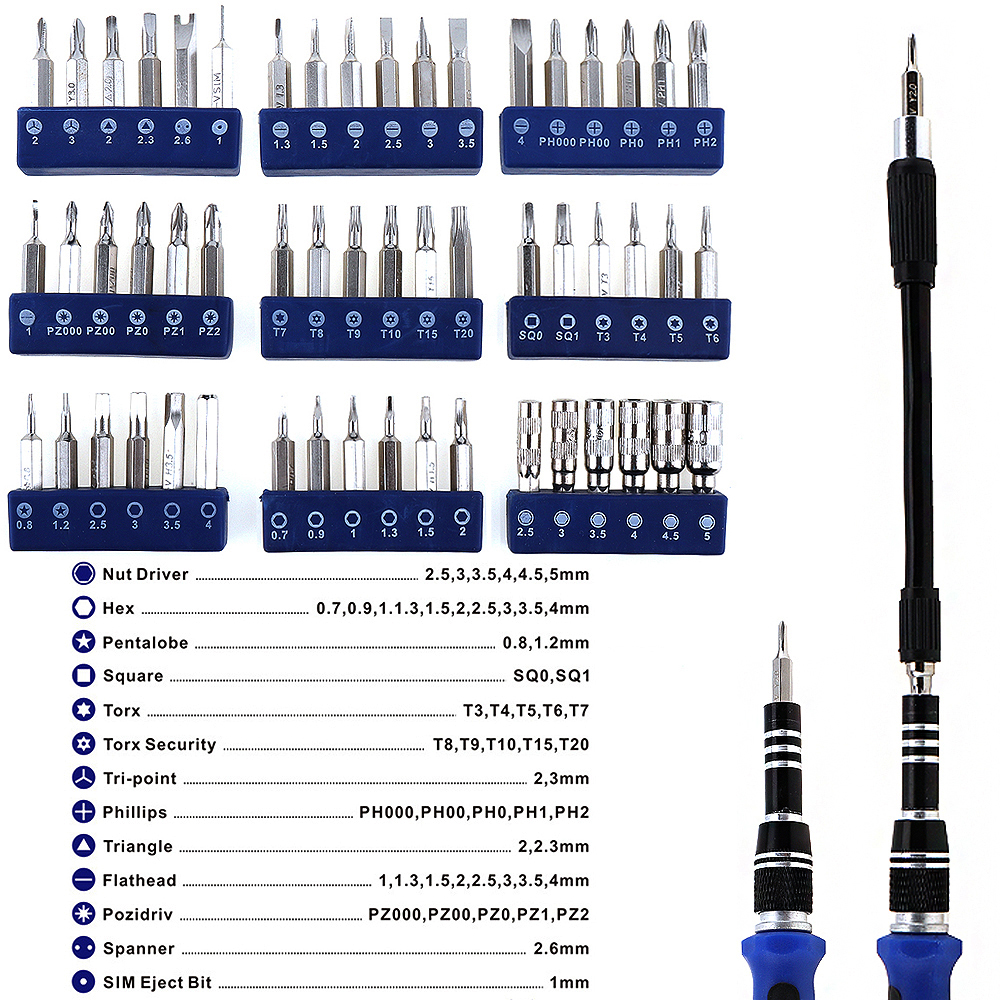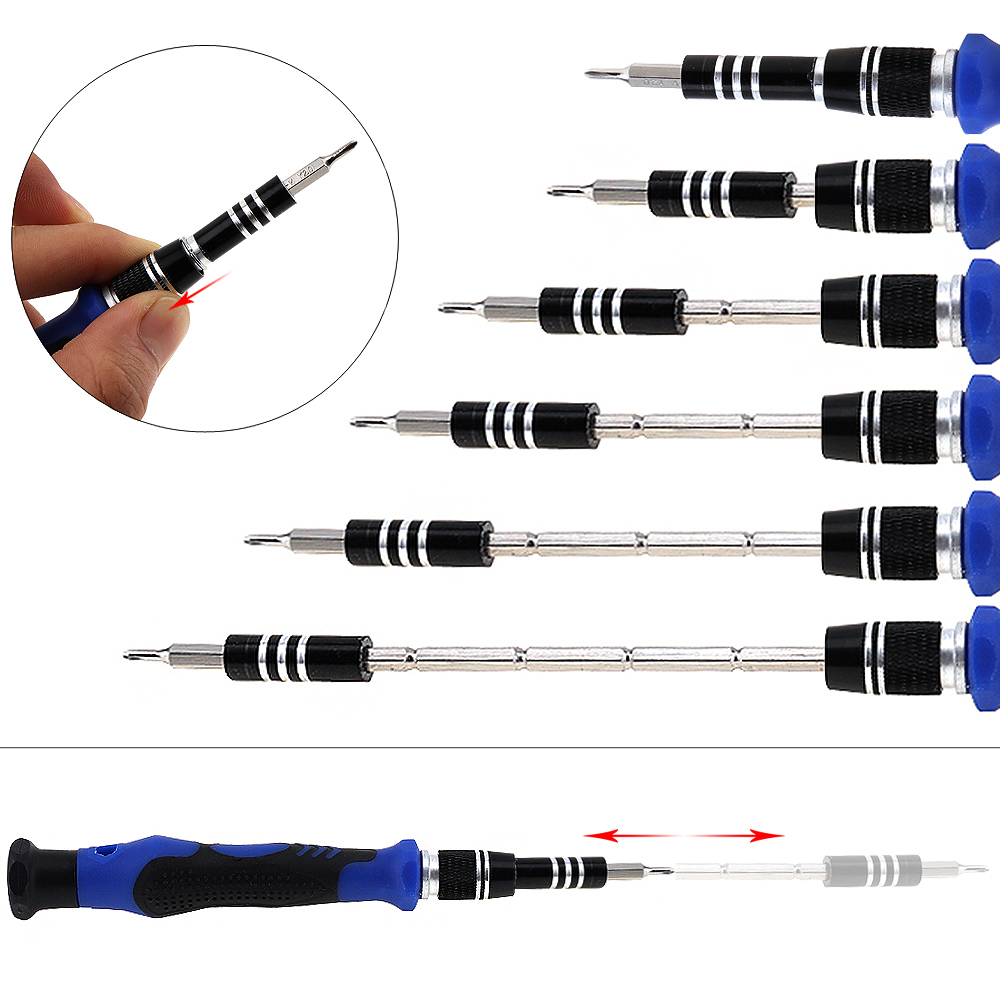 Recommendation
Company Information
Payment and Shipment
contact us
Shenzhen Youfu Tools Co.,ltd.
Sales Manager: James Li
Skype: anna.youfutool1
WhatsApp: +86-13421816942
Tel: +86-755-83258692
Fax: +86-755-83253695
Add: Floor 6, Bldg. D, Tianhui Bldg., Yousong Road, Longhua Street , Shenzhen CHINA
FAQ
1. What is your advantage?
(1)Various products in low MOQ and competitive prices.
(2)Professional website platform and one-to-one online service.
(3)We have ourselves factory. We accept the order if you want to customize products or design the product.
(4)Fast delivery-within 3-4 working days.
(5)Products are all covered with warranty and insurance.


2. How do you deliver the goods to my country?
We can provide international express,such as DHL,EMS,UPS,Fedex,TNT etc.We select air freight and sea freight upon your requirements if the weight of goods are heavy.All the freight charge will be debit to you and your account.


3. I want to buy your products, but i like another style,can you make it for me? What is your MOQ?
Since we are manufacturer,we can special made according to your drawing provided
or actual samples,MOQ is depend.


4.Can I get free sample from you? Do I need to pay the shipping cost for my sample?
We can provide free sample to our customers but we are not charge of shipping
cost. You need to pay shipping cost for your sample.


5. Do you accept logo?
We accept any kind of hotstamp,silkscreen and emboss logo,however,we request an
authority letter to prove that the logo is owned by your company.


6. What kind of payments do you use?
We accept Paypal,T/T,Western Union.
Application Guide
Various Screwdriver:
T3 T4, T5, T6, T7, T8, removable computer and mobile phone
T4, T5:laptop harddrive and circuit board
T5, T6, T8:Desktop computer hard drives, shell and head control unit on the screw shaft disc
T3:Motorola V3 and Siemens SL55 mobile phone, etc.
T4: Motorola series mobile phones
T5: Motorola, Nokia, HTC series mobile phone
T6:all mobile phone such as Nokia, Sony Ericsson, Motorola and Samsung, and other most mobile phones, the most common opening screwdriver
T7:parts of Motorola mobile phones
T8:parts of Motorola mobile phones and Sony Ericsson mobile phone & XBOX
T10: XBOX
Triangle Y 3.0: NOKIA charger charger and other electrical category
Triangle batch "Y" 2.0MM : All cellphones with triangular screwdrivers such as: Mitsubishi Sharp
5PT stars: Panasonic mobile phones and PHS phones ect
1.2 ,1.8, 2.0MM Phillips: Laptops and mobile phones with the Phillips screwdrivers such as : HTC Samsung Apple Macbook computers, etc.
Five stars 0.8MM: All IPHONE4 IPAD IPHONE4 S iphone5
Phillips"+" type: 1.0mm, 1.5mm, 2.0mm, 2.5mm, 3.0mm, etc., 1.5mm for the demolition of Samsung mobile phones and domestic mobile phone, a number of fine small household appliances, toys, etc.
Word "-" type (flat): specifications were: 1.0mm, 2.0mm, etc., the most common household tools. Precision adjustment for the tool. Remove the chassis but also a good helper.